Transair® Pipe System Certifications
Transair® meets the requirements of several industry certifications and standards, ensuring the highest level of safety and quality.
ISO 9001 Version 2000 Certified
Parker Hannifin is certified ISO 9001 version 2000 and operates a Quality Management System in order to ensure the level of quality and service that is expected by its customers.
TÜV Certification
A product certified TÜV is a pledge of safety and quality. The Group TÜV thus certifies independent test results – in particular, the properties of the products and the standards whereby they were examined.
ASME B31.1/B31.3 Certification
Transair meets the requirement of ASME B31.1 and B31.3.
Qualicoat Certification
Qualicoat certification is a guarantee of the quality of the lacquer finish applied to Transair aluminum pipe.
ISO 8573 Certification
ISO 8573 is the international standard related to the quality of compressed air. Conformance to the ISO 8573 standard illustrates our commitment to providing clean dry air and the highest quality engineered piping systems.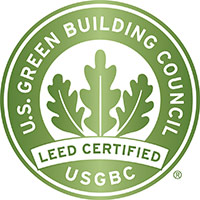 LEED Certified
The material used to manufacture Transair pipe and fittings is 100% recyclable, and meets the requirements set by the U.S. Green Building Council for Leadership in Energy and Environmental Design (LEED) certification credits.
Learn More About LEED
Safety Certifications
All Transair components are non-flammable with no propagation of flame. Connectors and valves conform to UL94HB standard. Fixing clips conform to UL94V-2 standard. Flexible hoses conform to ISO 8030/ EN 12115 norm. The pipe powder coat finish is classified MO.
CE Conformity
Transair connectors manufactured by Parker Hannifin should be considered as piping components, which are designed according to sound working practice and therefore conforms to European standard 97/23 CEE - §3.3 (equipment under pressure)